Our company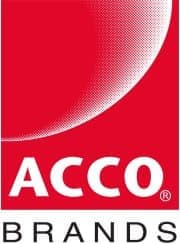 ACCO Brands Corporation (NYSE: ACCO) is one of the world's largest suppliers of branded office products. We market products in more than 100 countries through our own sales force and distribution networks. We're proud of our long history of industry leadership and innovation, and we're focused on delivering exceptional value for our shareholders and customers by providing unique, leading-edge, branded office products.
Our Brands
Our widely recognised brands include AT-A-GLANCE®, Day-Timer®, Five Star®, GBC®, Hilroy®, Kensington®, Marbig, Mead®, NOBO, Quartet®, Rexel, Swingline®, Tilibra®, Wilson Jones® and many others.
ACCO Malaysia
Established in 2015, ACCO Malaysia Sdn Bhd, is the Malaysia subsidiary of ACCO Brands Corporation. As a global company, we continuously invest in our premium brands and our people to deliver exceptional, high quality, branded products across the globe for all your workspace needs - whether in the office, at home or on the move. We are as committed as ever to provide you with the latest and most innovative products, including an extensive range of binding, laminating, shredding, visual communications equipment and workspace tools.